I read an interesting entry on Sage Slowdive's blog about the Best Best Actress nominees. And I thought that it's a list that must have been a great fun to make, but I haven't seen all of them so I can only pick some who I really liked. I wanted to do Best Actor, but I have seen more nominees from this category. I marked with a * those who should have won in my opinion. So my favorite nominees are:
1936: Carole Lombard in My Man Godfrey*
1937: Irene Dunne in The Awful Truth*
1939: Greta Garbo in Ninotchka
1940: Katharine Hepburn in The Philadelphia Story
1941: Bette Davis in The Little Foxes*
1943: Ingrid Bergman in For Whom The Bell Tolls
1944: Barbara Stanwyck in Double Indemnity
1946: Celia Johnson in Brief Encounter*
1947: Rosalind Russel in Mourning Becomes Electra*
1948: Barbara Stanwyck in Sorry, Wrong Number
1950: Bette Davis in All About Eve
1950: Gloria Swanson in Sunset Boulevard*
1954: Judy Garland in A Star is Born*
1958: Elizabeth Taylor in Cat on a Hot Tin Roof
1959: Katharine Hepburn in Suddenly, Last Summer
1959: Elizabeth Taylor in Suddenly, Last Summer
1960: Shirley MacLaine in The Apartment
1961: Audrey Hepburn in Breakfast at Tiffany's
1962: Katharine Hepburn in A Long Day's Journey into Night
1962: Bette Davis in Whatever Happened to Baby Jane
1962: Lee Ramick in Days of Wine and Roses
1962: Geraldine Page in The Sweet Bird of Youth (yes, all of them)
1964: Anne Bancroft in The Pumpkin Eater*
1965: Julie Andrews in Th Sound of Music
1965: Elizabeth Hartman in A Patch of Blue
1966: Ida Kaminska in The Shop on the Main Street
1967: Anne Bancroft in The Graduate
1967: Dame Edith Evans in The Whisperers*
1969: Jane Fonda in They Shoot Horses, don't they?
1974: Gena Rowlands in A Woman Under Influence*
1974: Faye Dunaway in Chinatown
1976: Liv Ullman in Face to Face
1977: Marsha Mason in The Goodbye Girl
1977: Jane Fonda in Julia
1978: Ingrid Bergman in Autumn Sonata*
1980: Mary Tyler Moore in Ordinary People
1981: Diane Keaton in Reds*
1981: Meryl Streep in The French Lieutenant's Woman
1982: Jessica Lange in Frances
1983: Meryl Streep in Silkwood*
1983: Julie Walters in Educating Rita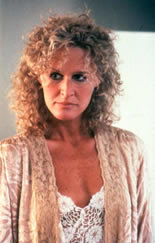 1985: Whoopi Goldberg in The Color Purple*
1986: Sigourney Weaver in Aliens
1987: Glenn Close in Fatal Attraction*
1988: Meryl Streep in A Cry in the Dark
1988: Glenn Close in Dangerous Liaisons*
1991: Susan Sarandon & Geena Davis in Thelma And Louise
1995: Elisabeth Shue in Leaving Las Vegas
1996: Brenda Blethyn in Secrets and Lies*
1998: Cate Blanchett in Elizabeth*
2000: Ellen Burstyn in Requiem for a Dream*
2001: Sissy Spacek in In the Bedroom
2004: Imelda Staunton in Vera Drake*
2005: Felicity Huffman in Transamerica*
2006: Judi Dench in Notes on a Scandal*
2006: Meryl Streep in The Devil Wears Prada
2007: Julie Christie in Away From Her
2008: Melissa Leo in Frozen River*
2008: Meryl Streep in Doubt