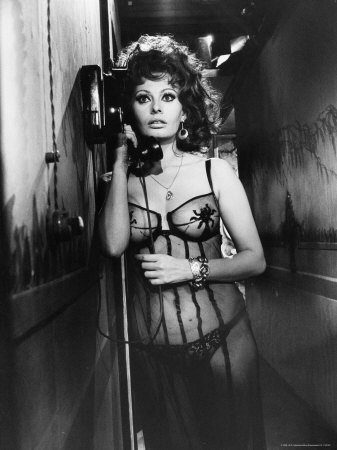 Sophia Loren received her second Best Actress nomination (and last to date) for playing Donna Filumena, a kept woman in Marriage Italian Style. Sophia really did not have much chance of winning the Oscar, I think. She had already won (and made history as the first actor winning for a foreign language performance), plus this was another role in an Italian movie. Sophia has always been a great star but I don't really think that it helped her chances considerably that time.
Marriage Italian Style is quite a mediocre movie, in my humble opinion. The last time I saw an Italian movie whose title ended with Italian Style (Divorce Italian Style), I was really entertained and I had a wonderful experience. In addition, I saw a fabulous, unforgettable performance by the fantastic Marcello Mastroianni. Here it is really not the case. Mastroianni is almost sleepwalking through this movie and one would expect much more (in general) from a Vittorio de Sica movie. I mean he directed Bicyle Thieves and Two Women. Marriage Italian Style was a real disappointment for me. Probably I expected too much.
Sophia Loren is, however, wonderful as usual. Of course, this is not her best performance (Two Women is unbeatable, I think and A Special Day is also brilliant) but I did not expect that. I wanted to get something really entertaining and moving from her, which I got. Therefore, she became the only thing about this movie that did not disappoint. It's no wonder, though. Sophia's talent is so great and it shines through even the weakest material. Of course, she's neither a very technical, I dare say calculating actress like Meryl Streep nor a highly emotional (and a bit over-the-top) one like Anna Magnani. Sophia falls somewhere between them, more leaning towards Magnani. However, identifying Sophia's talent is so hard. She's someone who's a natural talent and who would give the exact same, fantastic performances without any acting lessons.
The role of Donna Filumena wasn't really much of a strech for her, I think. Sophia has always been the best at playing earthy and a bit repressed Italian women who have occasional outbursts. Somehow, she makes them so attractive and loveable to us. The essence of this character is given in this movie. When Filumena is walking on the streets, the men and boys are looking at her and she moves her bottom in a very "Sophia" way and starts dancing (this is something that Penélope Cruz cannot copy despite trying desperately, she shouldn't). It's such an instantly likeable sequence, it's just impossible to resist her afterwards. I must say, though, that Sophia totally won me over in the beginning where the seventeen-year-old, scared Filumena looks at Don Domenico during the bombing. The look on Sophia's face is totally ingrained in my memory. It's such a small nuance but it was the real highlight of her performance, I think.
Sophia fantastically showed the toughness of Filumena but she let us know a much warmer and loving side of her, which really made her a sympathetic character. Her reminiscing about her children is so moving, I might even say heartwrenching. Her embarassed face is unforgettable in the scene when she looks at her sick son and she cannot do much about him. Her quiet desperation and final relief is just astonishing to look at. Afterwards (as Filumena has three illegitimate children), she visits the other two children and that's another adorable, luminous scene of Sophia. The role of the mother fits Sophia so thrillingly that if the movie had only been about Filumena's relationship with her sons, it would have been a cathartic masterpiece, much like Mamma Roma (with Magnani).
It's not a coincidence that I haven't talked about her scenes with Marcello. To tell the truth, it's him and his storyline that brings Sophia's performance down. Whenever I see the usual "Italian" fight between these two people, I think "I've seen this before, come on, I want something new, I know you could do better". Those scenes were intended to be hilarious but they did not convince me at all. The screenplay did not give many opportunities to them and I felt that it relied too much on the fact that this duo had been very successfuly together previously. The chemistry works here, too but there's no real sparkling there. When Sophia is there alone, she's just astonishing but when she's together with Mastroianni, the whole thing becomes a bit standard. Good, but standard. However, I must instantly add that Sophia looks once again incredibly great and her beauty is radiant.
So, to sum up, this is a great performance by the magnificent Sophia Loren, which may not be her career best but it's still very good work. Although there are amazing scenes in this work, the really common comedy scenes drag Sophia's performance down. She's still wonderful but she could have been once again mindblowingly brilliant. There was potential but the movie couldn't serve her performance well. Still, I'm very positive about her.
What do you think?
Note: First, I accidentally uploaded 4 Meryls but my original intention was 4,5 (this is a very strong 4,5, almost a 5 actually), so this is not a real change.